| | |
| --- | --- |
| | ART WORK |
| | |
| --- | --- |
| | ACTUALITY |
| | |
| --- | --- |
| | ............... |
| | | |
| --- | --- | --- |
| | | Dr. Masaaki Hatsumi, Ph.D. |
Dr. Masaaki Hatsumi is a highly accomplished martial artist, doctor and healer, writer, actor, and artist. Dr. Hatsumi, is most noted as the 34th Grandmaster of Budo Taijutsu and founder of the Bujinkan Dojo. Budo Taijutsu encompasses nine ancient martial art traditions of feudal Japan and integrates physical, intellectual and spiritual elements for personal growth and development. It is practiced by more than 10,000 practitioners around the world.
Dr. Hatsumi was born in Noda City, Chiba Prefecture, on December 2, 1931. He graduated from Meji University of Medicine in Tokyo, as a Hone-tsugi (Orthopedic Doctor). He is respected as an accomplished practitioner of the ancient Japanese medical techniques of Seikotsu (natural healing methods). In addition to medicine, Dr. Hatsumi is an accomplished artist of brush and ink in the Nihonga style. His art work has been exhibited at the Nagai Gallery of Tokyo and in Paris, France.
© Copyright 2003 - 2004. All Right reserved Magokoro Media P.O / Harry Mitrou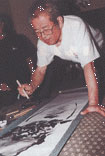 Dr. Hatsumi has written numerous books and articles on philosophy and martial arts that have been translated into many languages. He writes a weekly column for a local Chiba prefecture newspaper and is a recurring subject of the major Japanese martial arts magazine, Hiden. An accomplished actor and director of both movies and television, he starred in the TV series, Jiraiya, for four seasons. He also coached and directed notable martial arts film stars, Sonny Chiba and Toshiro Mifune.
For his efforts to spread the art of the Bujinkan throughout the world, Dr. Hatsumi has been recognized by many governments, private organizations and distinguished individuals.